I hate to merge these two topics, one is incredibly positive news about Frederick indie rockers Middle Kid and their much anticipated & brilliant album release today for the public to wraps its ear around  – the other a huge bummer, the brand new East Street Arts Center about to financially wipe out and go dark.  The two do have something in common: Middle Kid is hosting a fabulous EP release show at the East End Theater on September 11, along with Bested, Tina and Cheshi!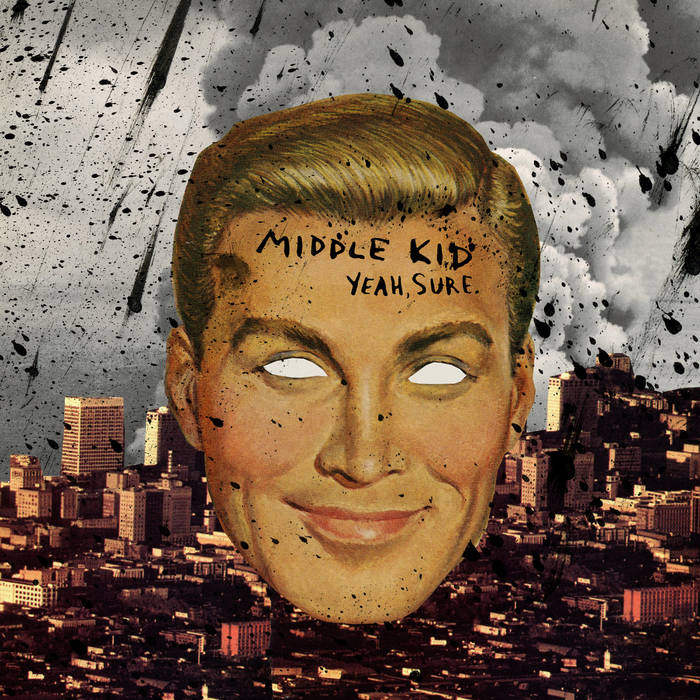 Very killer lineup. One more in the positive category: this art show is opening today at Artist Angle sort of beneath Gravel & Grind.  Another? Luna and Goodloe Byron art at the Park. More on all that after the jump…
we'll ease you into the pain of (possibly) losing the East St Arts Center/Landless Theater by turning you on to Middle Kid, but thats presuming you don't know what's rad in Frederick (not a crime, we are all here for each other, not to worry!).  A fairly new indie rock band, they had one of their first shows at Cafe Nola during that crazy blizzard last winter – since then they've been playing some high profile shows, like the one at ArtomaticFrederick Music Fest in May, all while recording a new EP.
EP entitled Yeah, Sure is finally out today, free [or what Radiohead did with In Rainbows which allowed fans to pay-what-you want — we highly encourage that option] at their bandcamp site, and maybe a physical copy you can buy soon at their EP release show on Sept 11. This review by Bucket of Rock's Cassandra Mullinix hit it out of the park, read that here before you do anything else -I'll wait right here (I got emails to catch up on, don't worry 'bout me).
Back again?  Vamos, let's continue.  Might add that Middle Kid is 2/3 Lilac Daze, another terrific band – more punk rock than indie rock you could argue, but apples/oranges – both are worthy -and they are taking pre-orders for a new CD + bonus disc + while yr at it, read impose magazine's write up on Lilac Daze here.
And now for the bummer: When we found out earlier this summer about the Landless Theater landing in Frederick, a popup theater outfit that got nods from the NYT and Wash Po for their metal hybrid take on Sweeny Todd and other creative theater ventures, we were incredibly excited.  Western Machines got to talk to executive director Andrew Baughman  before the FNP did about the new space at the former Hobbytown on East Street – we kibbitzed about the potential of turning it into a kind of new Frederick Cultural Arts Center. Here's some of what they were planning and open to doing:
All Ages shows in a city that has put lots of obstacles for those kinds of show?  Check.
Band rehearsal spaces available? Check.
pop up film and art events? Check.
But after a short 3 month period, the rent is due. While the Landless Theater (recently dubbed East Street Arts Center for the non theater events) managed to put on a few events, they've only been able to recoup show expenses and utilities. They were hoping to have other arts and community organizations come in to use/share the space and help defray the monthly rent, but up until now, only Middle Kid has knocked on their door to take advantage of the venue.
Here's an excerpt that was sent out by Andrew Baughman this morning to explain the situation:
It is with regret that I report Landless Theatre has submitted notice to close the East Street Arts Center, and barring a temporary reduction in rent from the landlord or surprise angel patron donor, we will be closing shop at the end of this month following a performance by TJ High School.

Landless planned to use the space for office and rehearsal, but knew we couldn't get in the business of regularly producing theatre in Frederick. The life of the space would depend upon the involvement of local artists, and the support of local individuals and organizations. Though the doors have only been open since July, we have been working hard to recruit many local artists/incubator groups and backers since last April. Sadly, no resident groups ultimately materialized.

We thank all of the artists and volunteers who participated in our work over the summer. We mounted three successful productions (SEMINAR, NINE, and DOG SEES GOD coming this month), and hosted two guest companies from outside of Frederick (TASTY MONSTER PRODUCTIONS and THE KING'S PLAYERS). We saw audiences begin to grow, and believed in the potential of ESAC. We thank some generous donors for helping us acquire chairs, pipe and drape, and tech supplies – portable items that now make us truly "landless," with the ability to pop up and produce a show just about anywhere!

It was a fun and crazy summer. Thank you to everyone who helped make ESAC a thing. We will remember ESAC and all of you very fondly.

Sincerely,

Andrew
Andrew Lloyd BaughmanProducing Artistic DirectorThe Landless Theatre Companylandlesstheatre.com
Later Andrew added this on FB to his earlier announcement:
…It was a fun and crazy summer. We learned a few things that we hope the community can benefit from:

1) Frederick NEEDS a central online platform and/or publication dedicated to promoting all arts events to the greater Frederick community. Not an Arts Council managed calendar (though that would be a great addition) – a City Paper or DCMTA style platform dedicated to all performing arts events in Frederick.

2) Philanthropists and Organizations committed to helping artists need to help ARTISTS, not just promote ideas or agendas. Please help the artists and individuals in Frederick who are already investing the sweat equity in building this arts community. Hire or fund them, and support their vision.

3) Local Artists – when/if the Ausherman arts facilities are opened, you need to be ready for them. Be prepared to pay a nominal amount for participation. A serious actor will invest a few thousand $ in headshots and postcards in order to work, right? It's the same concept. And be prepared to work, don't wait once the opportunity is available. These places will not survive without your involvement, or they will simply become Weinberg-lite for smaller national touring events.

-Andrew Baughman
Western Machines here. I'm openly wondering, if Frederick is such an arts town, then why aren't players such as Frederick Arts Council stepping up to the plate here?  Couldn't endowed 'patrons of the arts' that have vision in Frederick help keep this place intact?  I'm truly baffled… but before the end does come about, Landless is putting on one more show: 
Dog Sees God -confessions of a teenage blockhead.  It's an existential (play? dark comedy? musical dark comedy?) about Charlie Brown after Snoopy dies from Rabies. Whoa! Tix can be purchased here.
…………………………………………………………
I'm going to update this post in a few hours (got to pick up my kids from school, apologies) but in the meantime, other things to look out for in your radar:
Friday Sept 2 (yes that is tonight)
IF you're in downtown friday nite, do go check out ArtistAngle b/w 5-9pm, looks like a cool watercolor exhibit – and that's saying a lot as I'm not too much into h20color.
Land to Sky.. Sky to Water … Water to Sky
'EDGES' opens on Friday, September 2nd and features the works of local artists Mark Walsh, Christopher Madden and Robert Strasser. A beautiful collection of watercolors and oils by Walsh and Madden are perfectly balanced by the rich organic works of Strasser. The doors open at 5pm for wine and refreshments.
Water colorist Mark Walsh

Oil Painter Christopher Madden
Potter and Ceramicist Robert Strasser
Saturday Sept 3
Come check out the original artwork behind the "Tarot" Posters and Postcards to this year's 72 Film Fest. The artist, Wesley Pastorfield, will also be raffling off some original pieces. All proceeds will go to the Production of LEDA co-written by the artist!
Please come out for First Saturday/Gallery Walk and support local art/film!
Don't know what LEDA is?  I wrote a little about it in yesterday's FNP for my Light in a Dark Box column about indie film, I played an extra in last week's shooting where I both suffered and had a good deal of fun.
Also Saturday at 6pm : LUNA, experimental pop/uke alum from the Artomatic Music Fest performing Stars Spangled Banner. Her rendition should be pretty amazing. It's all part of Art in the Park (Frederick Key's Nymeo baseball park that is) w/ Goodloe Byron's art also on display, his interpretation of the Key's classic baseball uniform will get a rad makeover.
Last but not last, Carl Glorioso who helms the Frederick Film Office and always is in the know about cool indie film projects in the area sent this to me a few weeks ago:
Here is an Indiegogo campaign for a new film short film project coming to Frederick County in August/September.
I was too late to post this as the indie gogo campaign just ended, but it did raise nearly half it's goal of $15k.  Check out the link if only to check out director Johnny Mercer's vision about a diner owner who must fight for his life after its suspected that he robbed a mobster's money drop.