Frederick, it's summertime and there be ch-ch-ch-changes happening, particularly as the Landless Theater has touched down near downtown Frederick. You might know of Landless from the NYT and Wash Po articles detailing their prog-metal reimagining of Sondheim's "Sweeney Todd." They've been operating in DC, pop up style. Just a few weeks ago, they quietly moved into where Hobbytown used to be on East St and already put on a production, "Ferdinand" in their new 12,000 ft space. They're planning more stuff, but more importantly they're inviting the community in to share the facility and turn it into a rad reincarnation the Cultural Arts Center that used to hold punk / indie rock shows alongside other eclectic live performances, from black box experimental theater to art shows. What does all this mean for the denizens of creative Frederick?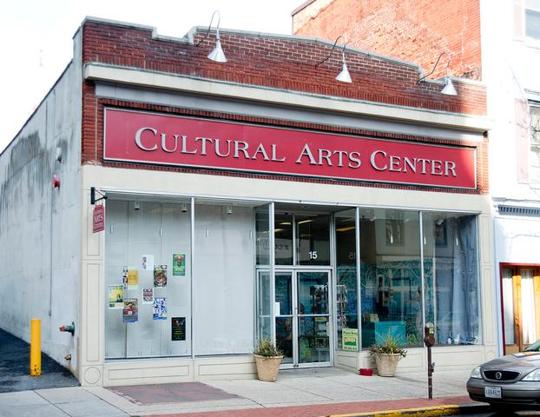 But first, whatever happened to the Cultural Arts Center? It was in a prime location, right in the heart of downtown near the Weinberg Center on Patrick St which jutted out to an additional entrance on Market St. After it went dark in 2012, Marvin Ausherman and the Ausherman Foundation bought the building for close to $1.5 million and renamed it 15 Square. In February 2014, there was a short PR blitz about a new cultural center to reopen in 2015, followed by formation of committees to reimagine what kinds of cultural programming could go into 15 Square. However, despite a few cosmetic touches and some initial construction work to upgrade the building, the project completely stalled and the website lay perpetually stuck in 2014. A few calls placed to the Ausherman Foundation later and I find that the project was abandoned due to the lack of state and federal art/grant subsidies to offset building upgrade expenses -that according to the Ausherman Foundation's spokesperson. In the meantime, another opportunity for a midsize multipurpose venue gone by the wayside.
Note: Marvin Ausherman gave a speech on May 5th for Artomatic Frederick's VIP opening that indicated a renewed effort to turn 15 Square from a dormant building into something tangible. Addtionally he indicated that he was seeking input from the public on proposals to turn the 'Artomatic building' into a different sort of cultural center which could include live performance spaces. Time will tell whether he will make good on promises to turn both 15 Square and the 115/117 Church St building that housed the Frederick Artomatics into actual cultural performance venues.
That takes us to the present day. It's no secret Frederick is in desperate need of a midsize venue to advance the local music (and let's not forget indie film) scene. What do I mean by midsized? Something bigger than Cafe Nola and smaller capacity than the Weinberg Center. Both are neat venues in their own respects, but if someone were to try to book Dan Deacon, Lower Dens or Dirty Projectors to Frederick, both venues wouldn't be apt for the bill. That and there really isn't a proper all-ages venue either in Frederick. If you're 18 and want to see Cheshi at Cafe Nola, you're SOL (the exception is you can see Cheshi at the Milkhouse Jam on August 6th AND it's all ages – which is kinda amazing since it's a brewery/farm that's hosting).
Last week I spoke to Andrew Baughman, the executive director of the Landless Theater and his responses sounded very encouraging. Let's go to the Q&A (and area musicians, stay tuned – end of the interview they're looking to hire some musicians for some upcoming projects):
WM: 12,000 square feet – how did you come across this space?
Andrew: We were looking at the space next door- a former church space. I had looked to open a space in DC and had all sorts of permitting problems with starting a performing arts space. The city there said you should really look out for a church space because it's already zoned for what you need in terms of occupancy. I was just driving around (Frederick) and noticed there was a former church – and the landlord took us in. It became unusable because they were installing an AC unit – suddenly all sorts of holes appeared in the ceiling. The city (of Frederick) was kind enough to transfer that occupancy to this space, and the landlord would allow us to use this space… which was better as a performance venue then what we had originally with the church.
WM: How did Ferdinand performance go?
Andrew: Performace wise we did ok, we didn't have a lot of publicity for it so… Landless is producing 3 shows in here where we are really drawing people from the community in here to get involved. Hopefully after that, we'll have community groups to come in and start using this space as we start producing other plays. We were really looking for studio space to develop our stuff. We didn't want to necessarily do what the MET does here in Frederick
WM: What distinguishes Landless and the MET?
Andrew: I'm sure there's many differences, but one of them is major focus — MET really wants to do theater here in Frederick. We were just looking for studio space (to sketch productions out), and since we have it – we want to provide and share it with the community.
WM: In the press release announcing the new Landless Theater, it references the Cultural Arts Center and all the milieu of art /indie punk concerts and occasional pop up screenings. You guys are really open to replicating that?
Andrew: We'd be totally open to it. Landless is kinda a rock theater, it's what we do – so it matches what we do to bring music groups in and things like that… It's kind of our mission to bridge the gap between the music and theater scenes. We could have a rock and roll place here. The drawback is occupancy – we're limited to 100 people (due to city codes regarding available bathroom-to-audience number ratio). It could take awhile to build that number up to 100- I'll be amazed if we can get 100 for a rock show in here…
WM: When you walk in, it's a huge space… you're envisioning this to be a gallery space / event space up front?
Andrew : We could use one space for concerts, and another for theater.
WM: It's like you read the minds of a lot of musicians in bands around here because there's a lack of rehearsal spaces in Frederick. That you are offering a rehearsal space for a band (or bands), was that something you knew about or was that a guess?
Andrew: It was our plan -we knew we had our studio set up and we knew we weren't going to be using it all the time, so we might as well rent it out as rehearsal space. Its just a matter of thinking of how many different things can we do here -how we can get the most amount of people here, open as many streams of revenue to keep the place open.
WM: There's a dearth of all ages shows/venues in Frederick. IS that something you guys would entertain -that idea of all ages shows here as well?
Andrew: it would be ideal. We could get a liquor permit -but it's a bit of a process. So there's an appeal to doing all ages kind of event where we don't have to deal with extra permits.
WM: How would people to be able to set something up here?
Andrew: Just this email abaughman@landlesstheatrecompany.org
But literally anyone who walks in the door with an idea – if it doesn't sound dangerous (laughs) I'll say yeah let's do it, let's make it work.
Post interview: Andrew had a request, a call for area musicians for their next theater-meets-rock project. [Update: I was a bit late in posting this as I had a severe back injury to deal with – I missed the opening night of "Seminar" Saturday in Frederick. They will have 2 more performances – Friday August 5 and Saturday August 6th. Here's a review from TheatreBloom.com. Tix can be found here.]
>We're doing a symphonic metal musical (Bloom) that we're rehearsing right now that's going to go up here (at Landless) for a weekend and then down at Gaithersburg Art Barn for 4 weeks and we're looking for 2 guitarists and a percussionist. It'd be nice if they read music but it's not necessary. We're looking for a zen drummer (a zen drum is like a pad / guitar – or even electric drum pad). Worst case scenario – acoustic drums. Paid on commission gig – we contract with our artists for a percent of net of what comes in. Time frame: rehearsals starting immediately. There are 16 performances in Gaithersburg in September. We have 2 preview performances late August here in frederick. We're also doing NINE the musical, based on Fellini's "9 and 1/2" film.
Hmmm…I know Middle Kid was looking to do an album release show and make it all ages…
………………………………………………….
Extra time:
Heavy Lights – I'm going to go ahead and say it – bar none – the best band in Frederick, in whatever category you dare put them in, indie rock or otherwise. They had their last official show with the original lineup last week at Cafe Nola, but for a special invite only event yesterday, friends and longtime supporters of the band were treated to a secret performance at a secret location (location of which I still can't divulge). It even had a secret password that you had to utter to get past the gauntlet of a doorman. It was magic and partly that's because they were having fun and not really taking the show too seriously. Just one last time (for the foreseeable future) they were able to raise a harmonious ruckus in downtown Frederick for a standing room crowd.
Afterward, as I was making the rounds to say farewell, there they were, huddled in the darkness, not saying a word to one another. Perhaps it was the weight of the moment. Or maybe they said everything they had to say already, in song and music. They made a righteous noise, and the people were glad for it. Godspeed to Brian Weakley and Derek Salazar, who are off to new adventures in Chicago and Philadelphia respectively. Salazar, still a member of Yellow K Records' band Seagulls, now won't have to travel extra miles to record with the Philly based band. Weakley – I have a hunch we'll be hearing about his new musical exploits in the windy city. Until then, we await the next move for Heavy Lights, including but not limited to a remote-internet file sharing based way of piecing together a new album.
Extra Extra: mark yr calendars August 19th : Childhood of a Leader screening at Area 31. Arthouse/indie 1st run cinema in downtown Frederick? Most definitely. More about this Brady Corbet helmed movie later on Western Machines – prepare for a pretty wild film.
Western Machines may be quiet for several days. Yours truly will be out of town and in Denver until August 11th. If you got something worth relaying, drop the machine a line (no spam please) at west.tern.machines@gmail.com Peace