I'll get to the Thing at Sky Stage in a jiff – but don't forget: Dashing Emancipation tonight 7pm at McClintock Distillery (ethical clothing symposium), and on Wednesday the first volume of Films & Fermented Foods featuring "Black Dynamite," a fantastic homage to blacksploitation films (also at McClintock).  More on all that later.
I've been quietly talking about the Sky Stage (corner of All Saints & Carrol St) for awhile -Heather Clarke's brilliant repurposed venue getting some love from publications like Dwell Magazine and just a few days ago from the Washington Post.
Rewind to the cold of January, WesternMachines was asked to curate the lineup at the Sky Stage as part of the 2nd Thing Fest set to go this Saturday May 20 (weather forecast so far so good).  It just might end up being the last Thing (the Frederick News Post was sold to Ogden News) but we're going to go all out anyway.  We're stoked to present both new and stalwart indie rock awesomeness this Saturday. Let me deconstruct the lineup if you're not familiar with some of these bands – this will convince you to drop that cell phone and get your ass out the door to go. Another reason: subVersive Zine  issue #2 will be hot off the press and available to pick up at Sky Stage (and other downtown locations).
TUFF JUNIOR          [5pm]
The final event of the Thing fest at 200 East Art Haus back in July 2016 was Old Indian's last show ever.  That was a blast, but since then frontman Cory Springirth has not gone into the gentle night (to misuse Dylan Thomas) but instead, from bedroom recordings, developed a new sound just as cool as Old Indian's – but takes it a step further into adventurous avenues.  It turned out to be a new band project Tuff Junior, which officially debuted in March at Cafe Nola.  For those lucky enough to catch the show -the whole of the music just shimmered – starting from the familiar Black Sabbath vibe that made us fall in love with Old Indian – then suddenly without warning, the band transitioned into a slower but wild psychedelic country-fried medley, then new wave hybrid surfer rock.  Like I said, adventurous. Absolutely.  Everything, the vocal arrangements that crackled with vibrancy and confidence of someone who sounds like they've walked down a hundred different roads, the rainbow jangling coming out of his guitar, the mysterious bassist in the corner keeping the low end in perfect transcendent time with Heavy Light's Derek Salazar's vital drumming…it made listening just pure joy – fine barrel aged bourbon pouring slowly and deliciously on down –  top fucking shelf.
Check their bandcamp for their first two singles, Denim v Leather and the newest single that emerged a few days ago, Vacation Daydream.
MR. HUSBAND                 [6pm]
a new project from the creative force that brought you New God and Yellow K Records (entities  that NPR Music, Pitchfork, Fader and other national media outlets have heaped praise & blessings), Kenny Tompkins decided that he lost his mind.  Too many hours spent promoting bands in conventional social media ways and Kenny simply cracked.  He put on a wig and dressed as a man in a time machine stuck between only the years 1968 and 1985.  He made self deprecating ironic videos talking about his new 'professional musical career', complete with yearbook pictures from hell and 80's elevator music.  He sold band t-shirts hilariously out of order – violating a sacred unwritten rule: thou shalt not sell band t-shirts before putting on a single show or releasing music to the public. And he wound up making some brilliant music along the way, releasing Plaid on Plaid on cassette – a sound simpatico with the elephant 6 collective or panda bear/animal collective – all of whom spent copious amounts of time worshipping in the house of Brian Wilson.  Stereogum had this to say about his first single, "Riding a Lighting Bolt": like Brian Wilson refracting through Animal Collective and boomeranging back to the '60s, leaving behind sonic contrails in its wake.  To further his "professional music career" he thought it best to go on tour -in character.   Mirth, hilarity and brilliant music all in one. He's joined by some heavy hitters like Chris Morris of Heavy Lights and Jason Reeder of Cotton Jones.  [FYI – I wrote a feature story about Mr. Husband in last week's 72 Hours – check that here.  ]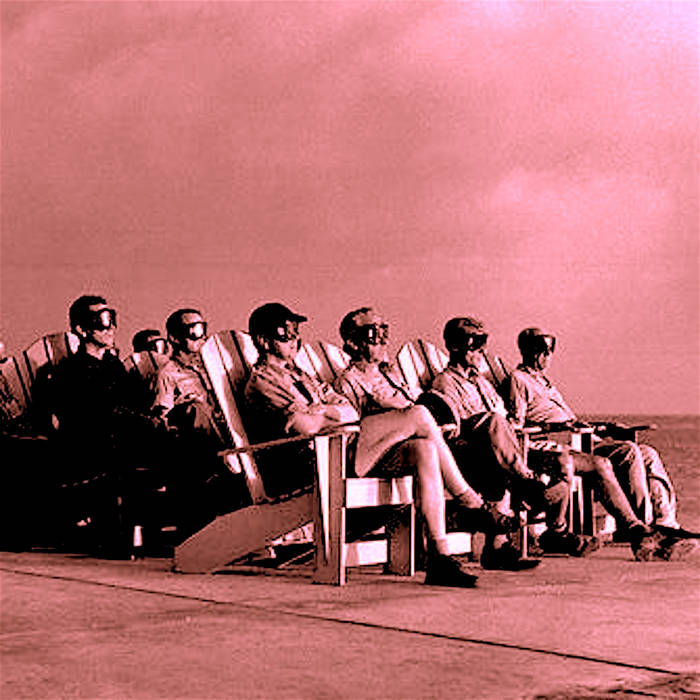 MISS LONELYHEART                 [7pm]
They would say they're not legends – but I say they are.  They are in fact indie rock gods of Frederick (and central PA – they've been in continual transition with members in both MD and PA) – and that ain't no goddamn 'alternative fact' brought to you by some fucking trumpist.  That they formed in the 90's makes them OG. seriously legit OG.  I flipped thru a zine, Shredding Material – it was from 1998 and they interviewed the (then) young band who were struggling with what Frederick was about, musically and culturally.  Can you imagine, in the midst of a city transforming from frednecksville into -well, whatever the fuck it is today – and this incredible music that you could fit into the same sentence as Superchunk, Pavement, Mission of Burma- it's pretty mindblowing. Miss Lonelyheart performed with the likes of Fugazi – stop right there. I can't handle all this awesomeness.  Sky Stage brings the people who defined indie rock in this city for so long full circle (and for once, WesternMachines will neglect his kids in order to watch them live).

DROP ELECTRIC                          [8pm]
Let me drop 2 words: electronic shoegazer.  That's not exactly an apt description, but with a band that's as versatile, creative and hard to pin down as Drop Electric, it will suffice [for now].  Hailing from DC (mostly DC, some work DC but live in MD) Drop Electric started to make a name for themselves thanks to a shout from Bob Boilen, who said this: …they knocked me out. I'd seen Sigur Ros earlier in the week, we'd webcast that show, Sigur Ros is on my mind. Epic sounding instrumental band, with beautiful, beautiful vocals and here was Drop Electric, doing something sorta similar. "
– Bob Boilen, All Songs Considered (NPR).
What they do is gorgeous as they envelope you in this sonic wave that carries influences far (most of the band members are Persian and bring in a neat middle eastern percussive element) and wide (shoegazer has punk rock/indie rock roots mixed in with neo-psychedelic elements).
So yeah, Sky Stage // like Frederick Artomatic Music fest before it, will be here and gone tomorrow -or sometime in the fall – as it will cease to exist as a temporary community public art installation and open air performance venue.
don't forget all the other rad bands playing the Thing  like…
underground hip hop at Cafe 611 with Stitch Early, Retro/Ricole and J Berd
DIY instrumentalist Kai Orion and emo rocker Middle Kid at Gravel & Grind
Appalachian rockers Crooked Hills playing Guidos – plus Mess, Cosmic Halitosis, and Atomic Mosquitoes will makes Guidos a really eclectic lineup
bluegrass band Platescrapers/Kretzer Brothers at McClintock
Luna, Thom Huenger and Declan Poehler at Vini Culture
Fun Boys, Silent Old Mts., DoubleMotorcyles, Cheshi and Time Columns playing 200 East Art Haus outside -and the headliner, Rozwell Kid – who returns after playing the first 200 East show in July 2015.
and the official aftershow at Cafe Nola : My Friday Anthem closes it out at midnight!
Full lineup for this massively wide fest here. 
Pricing:
So there's a couple of options :
if you only want to go to one venue, it'll be $5.
All access/all shows, there's a wristband for that which will set you back $30.
There's even a VIP option -a tshirt and pint glass to commemorate the Thing (hint: last option is not worth it but you didn't hear that from me. shhh. remember snitches get stiches).
You can get wristbands at this point on the THING website here – or day of on May 20th at various venues, including Sky Stage.
And DON'T forget to pick up a copy of SubVersive Zine #2  – it'll be available at all the usual suspects, Pit Crew, Gravel y Grind, Record Exchange, Nola and of course at the Sky Stage.
extra time:
Shameless plug, I wrote a little something about the McClintock screening event for the FNP – the event seeks to raise funds for the Frederick Film & Music Fest that'll take place late in June – you can read that here, 'cause Black Dynamite is one bad mother-shut your mouth!
Meanwhile LEDA is still filming but rapidly finishing all the shooting soon. They are facing a major fundraising hurdle, if you can help out via indie gogo – they could use all the help.